Are you fond of things that are blue? If yes, then your fondness for the color must leave an imprint on every area of your life. Think clothes, jewelry, furniture and so on. So why must food be left out? You can indulge your love for things that are blue in the culinary space as well. If you like cooking and baking, you can whip up delicious blue good food for yourself right at home.
In this article, we tell you about all the blue desserts you can make at home. Some of these desserts use natural ingredients to effect a blue hue and tint. You don't even necessarily have to use blue food coloring to enjoy things that are blue when it comes to these desserts! How great is that?
Recipes for Blue Desserts You Can Whip Up in Your Kitchen
1) Honeyed Yogurt and Blueberry Tart with Ginger Crust
Creamy yogurt mixes with honey in this delicious sweet and tangy dessert. The yogurt-honey mixture is then spread out on cracker-crust and served spiced with ginger bits and topped with fresh blueberries.
Ingredients –
1.5 cups of blueberries
2 tablespoons of honey
1 large egg-white
3 tablespoon unsalted butter
Pinch of salt
2 cups of Greek non-fat yogurt, drained overnight
1 tablespoon sugar
A quarter cup of crystallized ginger
10 whole Graham crackers, crumbled
Recipe –
Pre-heat the oven to 350 degrees. Find a 14×4.5 inch rectangular fluted tart pan which has a removable bottom and spray this with a cooking spray. Pulse the crackers in a food processor alongside the crystallized ginger, salt and sugar until ground finely. Now, add butter and egg white to this until the crumbs have all been evenly coated. Press these crumbs onto the bottom and side of the pan. Bake for 20 minutes until the crust has lightly browned. Let the crust cool.
Mix the drained yogurt and honey in a mid-sized bowl. Then, spread the yogurt on the crust and place the blueberries on top. Cut this tart into slices and serve.
2) Blue Surf Cake
Our Blue Surf Cake recipe is the cake for you if you are partial to things that are blue. You can prepare this fun naturally-blue dairy-free ice cream-like cake for your friends and family with only a handful of common ingredients. So, what are you still waiting for?
Ingredients –
One and quarter cup raw cashews, pre-soaked and strained
1 tablespoon maple syrup
3 soft pitted Medjool dates
4-5 tbsp maple syrup
Half teaspoon salt
Half teaspoon raw ground vanilla bean
1/3 cup coconut cream from a can of filled coconut milk chilled overnight
1.25 teaspoon of blue butterfly pea flower powder
Recipe –
Process half a cup of raw cashew, 1 tablespoon maple syrup and the dates together in a food processor. Transfer into a 5" springform pan and press onto an even flat crust. Freeze this.
Add the rest of the ingredients for filling together with only a quarter teaspoon of blue butterfly pea flower powder and blend to a smooth and creamy consistency in a power blender. Remove approximately one-third of this mixture and pour into the springform pan over the crust. Try to keep this mixture to one side of the pan.
Add in another half teaspoon of blue butterfly pea flower powder to the mixture and blend some more. Transfer half of this mixture to the pan now and place on the center.
Add another half teaspoon of blue powder to the remaining mixture in the blender and blend some more. Now transfer all of this mixture to the left of the springform pan. Use a skewer or small spoon to swirl the mixtures together. If you wish to create a sea wave effect, use a circular motion and go around the edges of the pan. Be careful not to over-mix or the different layers will merge into the same color.
Freeze for 6 hours at least and keep frozen until it is time to serve. Bon Appetit!
3) 4 Ingredient Paleo Vegan Blue Matcha Coconut Bars
Who said all your blue desserts have to be unhealthy? Try this paleo vegan blue matcha coconut bars. Easy to make, with only 4 ingredients necessary – what's not to like? On top of that, it only takes 10 minutes to make.
Ingredients –
A quarter cup of coconut milk
1-2 tablespoon of blue matcha powder
3 cups of shredded and unsweetened coconut
2/3rd cup of melted coconut oil
A cup of sticky sweetener
Recipe –
Take a large mixing bowl and add the unsweetened shredded coconut and blue matcha powder. Mix well.
Add the melted coconut and sticky sweetener. Mix this too, until the mixture is nice and crumbly. Add the coconut milk and mix some more. You want to have a thick batter by the end of your mixing, so keep adding more coconut milk if required.
Line a tray with parchment paper and set aside. Wet your hands and form the mixture into rectangle shapes and place them on this lined plate. Place this tray into the freezer afterwards. Check to see when these bars firm up, and there you have your healthy no-cook sugar-free healthy blue dessert ready!
4) Gluten-free Vegan Blue Oats Dessert
Fitness enthusiasts can just as easily make us of all the healthy blue dessert recipes available on the Internet. Our gluten-free vegan naturally blue overnight oats dessert recipe should gladden your heart and your appetite, if you are fond of things that are blue. It is nutritious and tasty and makes for a beautiful looking dessert.
Ingredients –
1/3'rd cup of butterfly pea flowers
3/4th cup of boiling water
Half teaspoon vanilla extract
Half tablespoon roasted almond butter
Half cup unsweetened vanilla almond milk
3 packets of natural sweetener
A pinch of salt
Half tablespoon of ground flaxseed or chia
3/4th cup of old-fashioned rolled oats
Recipe –
In order to make the natural blue dye, add butterfly pea flowers and pour the boiling water on top. Brew this for 5-7 minutes. Then strain the flowers and allow it to cool.
Take a bowl, whisk almond milk, almond butter, blue dye and vanilla extract together. Stir in the oats, sweetener, salt and milled chia seeds. Cover and refrigerate overnight.
Your gluten-free vegan blue oats dessert is ready the next morning! Take out and help yourself.
5) No-Bake Mermaid Cheesecake
Mermaid desserts have been trending for a while. You can design your own no-bake mermaid cheesecake with no synthetic dye and absolutely natural food color in a handful of hours, with this recipe we share below. Try it out and let us know whether you liked it.
Ingredients –
9 ounces of shortbread cookies
Half cup of melted butter or coconut oil
16 ounces of cream cheese
A cup of powdered sugar
1 tsp vanilla extract
Half a cup of sour cream
Quarter teaspoon salt
3/4rd cup of cold heavy cream
1 tablespoon blue matcha powder
Blue and green pearl sprinkles
Recipe –
We will make the crust first. Take the shortbread cookies in the bowl of a food processor and whirl until even crumbs form. In a medium-sized bowl, stir and combine the cookie crumbs and butter well. Press this mixture at the bottom of a 9-in springform pan. Refrigerate until you've readied the filling.
We start to make the filling by using a large bowl where we mix the softened cream cheese, powdered sugar, salt and vanilla using an electric handheld mixer, until smooth. We need to mix these continuously for 2-3 minutes to receive the desired consistency. Add sour cream and cream, then mix some more. Now add blue matcha powder and mix some more.
Take this filling and spread it evenly over the crust you have prepared. You can form swirls at the top to mimic waves. Sprinkle blue and green pearls. Cover the pan with plastic wrap and refrigerate for a minimum of 4 hours.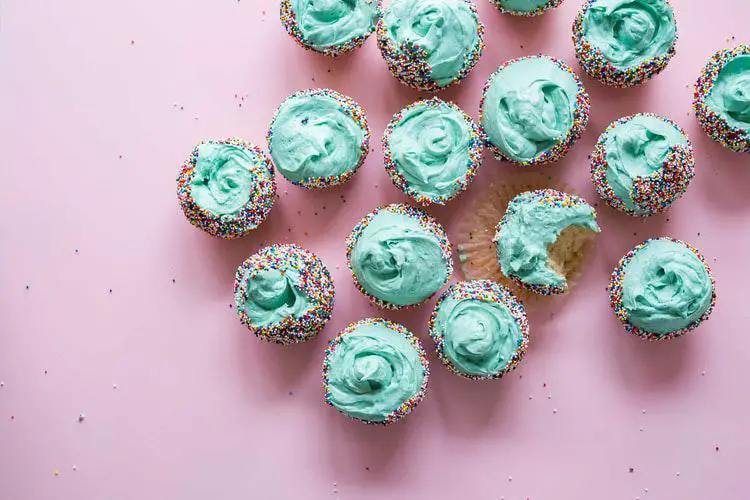 Beautiful Blue Dessert Ideas for People that Like Things that are Blue
We have curated above a list of 5 different dessert ideas for people that fancy blue-colored things and the color blue! All of these dessert recipes not only provide the aesthetic splendor of a blue-hued culinary item, they all use absolutely natural colors to do so.
Additionally, we understand how a well-stocked pantry is not always available, so we have listed recipes which use minimal ingredients and yet, treat your senses to a beautifully blue dessert.
Choose from these bake-free, oil-free, limited sugar dessert recipes to prepare a wholesome and delicious blue sweet meal for you, within a couple of hours! In fact, some of these recipes can be made even faster.
True, you can always buy yourself a pretty blue dessert from a patisserie, but you can't always walk/drive down to the pastry store every time you want to indulge yourself with a blue dessert. Brighten your Instagram feed and your mood instantly, with our tasty blue dessert recipes. All of these recipes use all-natural ingredients and no synthetic dye that could compromise your health. You don't need to think twice before prepping one of these up. You can trust that they will be as yummy as they will be good for you!