Neon signs have dominated the signage industry. Its bright and glorious present can make anyone attracted to it. Its magical glow is more fun when used in a creative way. Neon signs were invented in 1910 by a French engineer, George Claude. And 1920s to 1960s was its golden age. However, neon signs are still making a great fuss- especially the blue neon signs. To get to know how you can use blue neon signs in a fun way, we have listed the top 10 fun blue neon sign ideas.
Top 10 fun blue neon sign ideas
1. Missing friends sign!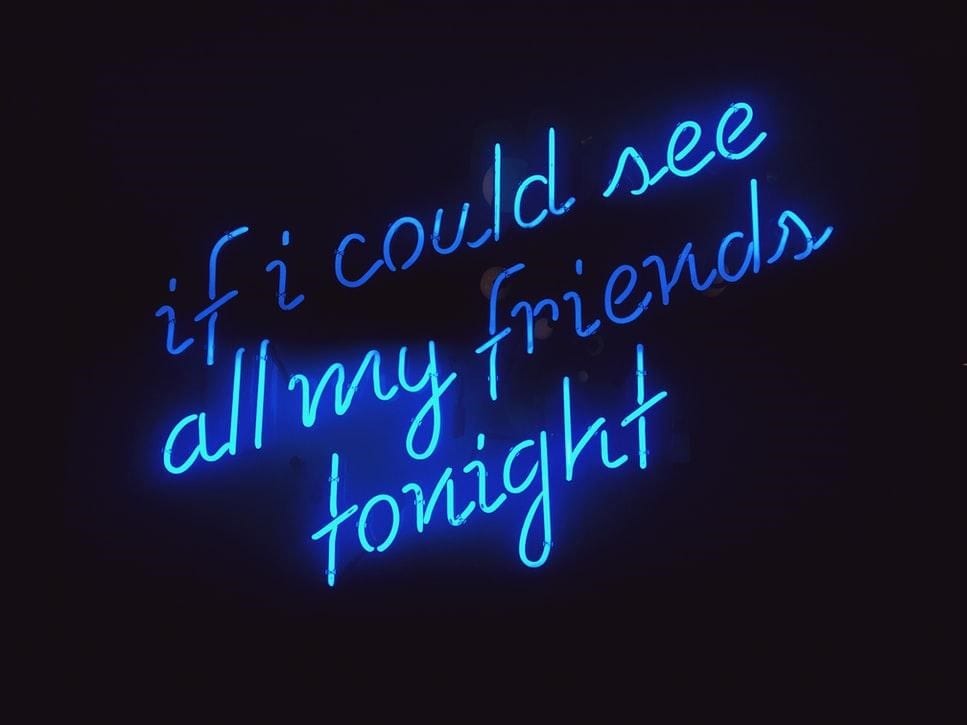 Suppose, you are in a bar or restaurant you ought to be with your friends are reading this sign? Yes, it will trigger the main emotions out of you. This is the magic of the blue neon sign when used in the correct way, they can make you feel the depth of your emotions. When you have great fun at someplace, you naturally miss your friends and think about them. You may think of calling them and asking them to come over. The maker of this sign has not only evoked your feelings but also made a marketing move. You can also use the blue neon sign in such a way and make a great marketing strategy.
2. All art is erotic!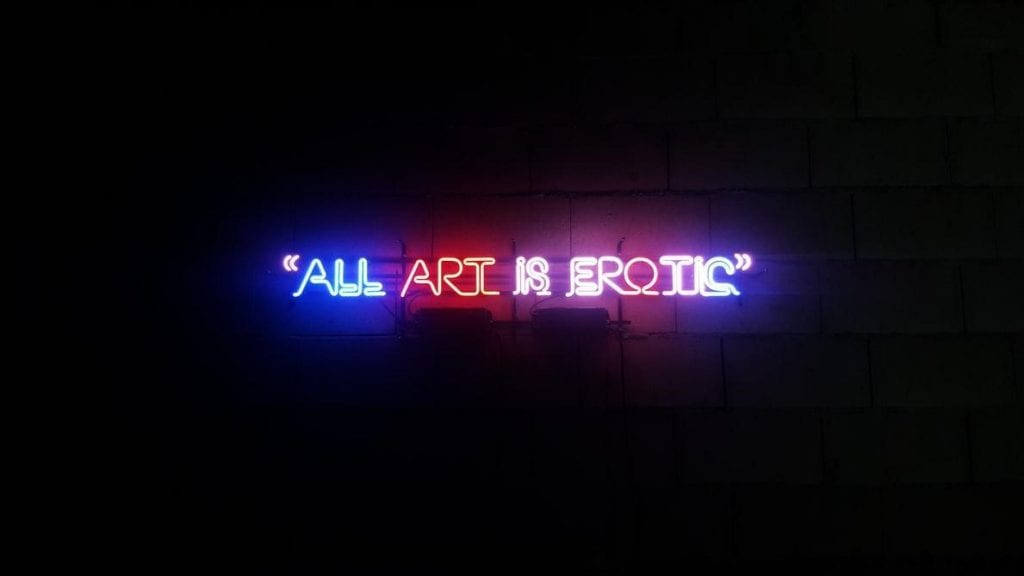 Arent the neon signs erotic too? Neon signs are sometimes vivid, classy and erotic. They have a sensation in their glow. The quote in the above picture is a very famous one. By putting this quote in a colorful neon sign is making it more valuable. You can also choose your favorite quote and use it in neon signs. It can be a motivational quote, happy quote or life-oriented one. Make sure you are giving it its place. When you choose a quote, the surrounding atmosphere must match it. It must not look like pebble in the middle of flowers.
3. Cute direction!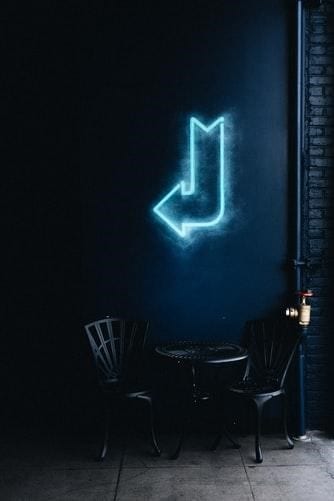 Neon signs are lit and cute. This directional neon sign in the above picture is simple yet creative. The picture can make you feel nostalgic and lighten up your mood for that instance. You can also use such simple tricks to grab the attention of your customers. Or you can use this sign at your home also, it will help you to guide at night when everyone is fast asleep. Neon signs cab brighten up your home decor in a unique way. You can add personality to your business or home by using glowing blue neon signs.
4. Speaking Signs!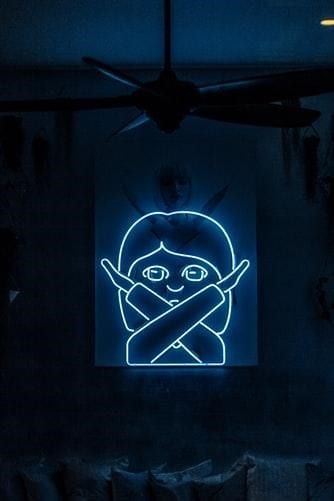 So, this sign is both funny and interactive. The lady behind the sign is also crossing her arms and the sign is saying the same. You can clearly see the what difference a neon sign can make. No one would have paid attention to the background image but because of the creative neon sign, it is more appealing. The sign is cute and can make an impact on the viewers. The sign may be conveying a defensive gesture if so, it is providing a social message too. You can reach to the heart of others by putting what you feel in neon signs creatively. It may not take many efforts, but it will make an impact on another's mind.
Even the position of this neon sign is placed well. A group of women can seat on the below couch and make the same gesture and have a memorable picture together.
5. Neon Moon!
The sign is saying, "reach for the Moon". Isn't it a creative way of showing the moon by a blue neon sign? The creativity can blow someone's mind and you may get the attention you were expecting all this time. The creator of this neon sign must have been thinking about something out of the box to come up with something like this. The sign is a quote shown in a creative way. You can also choose a quote and make it creative in your own way. The sign Moon can be the symbol of the brand or the place must have some connection to the moon sign. In this way, they have made an advertising move too. Even the other words which are not in a neon color also highlighted to make an overall impact.
You can choose a quote and symbolize one word and make it a neon sign.
6. Are you hungry?
If you are hungry and your eyes fell on this sign, you may automatically feel like, why don't I just have a pizza? That's it. This is how psychology works. You mind is constantly observing the surroundings and making decisions like this one. If you have a food restaurant or something, you can also put such sign outside the restaurant. This neon sign is able to evoke a temptation to eat pizza and gradually make you earn from selling pizzas. You can also try to put ice-cream as a sign or burger for that case.
Another noticeable thing is, the sign is not typical. It has a different shape than the usual alphabets. They may also help to get the customer's attention.
7. Now baking!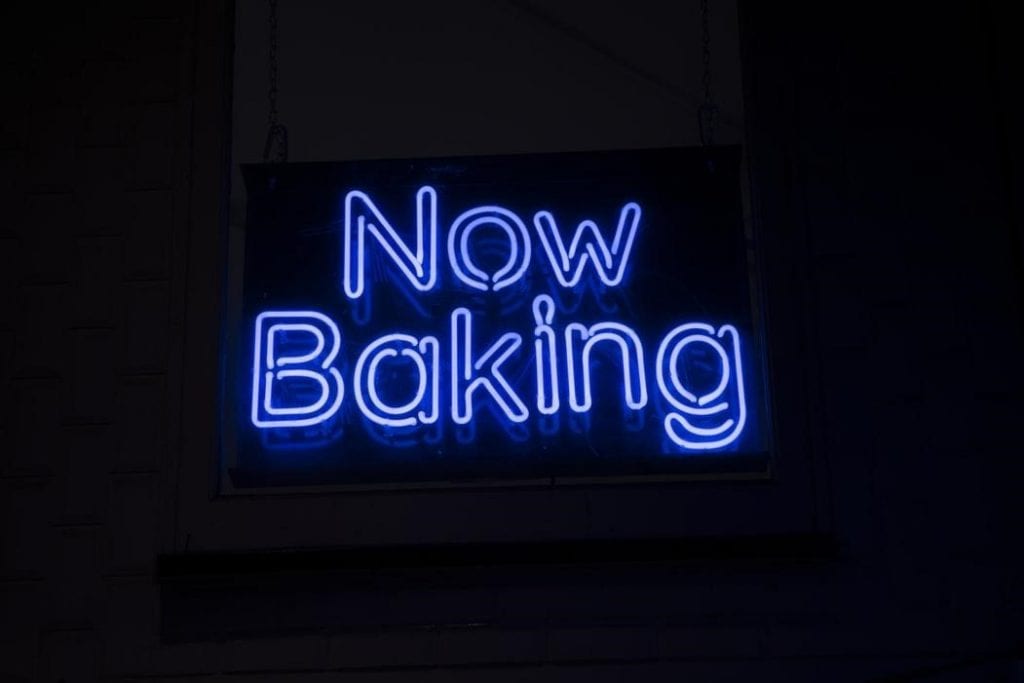 Insteading of saving we are open, the sign is saying Now baking! Isn't it a creative way of saying the same thing? It may attract your customers and make them feel intelligently attracted towards your brand or shop. You can use different sayings or phrases to catch the eyes and hearts of others. Neon signs can be fun when used in correctly. If you don't want to put so much creative energy into neon signs then you can simply put your shop's name in neon blue. It will be highlighting your shop or business. However, doing something creative always attracts consumers.
You can try different words and phrases for the same. Think out of box and you will come up with something outstanding.
8. More this way!
Sometimes, your one branch is divided on different floors. At such times, using blue neon signs is a smart move. Even the above sign is standing apart from the scenery. It will capture the eyes of others without many efforts. This catchy sign is playing a vital role to direct the customers to the right place on right time. It may turn out to be more helping for people who are looking for your place only. If you have a shop at a crowded place then you must think of using this sign as it is.
9. A quote to remember!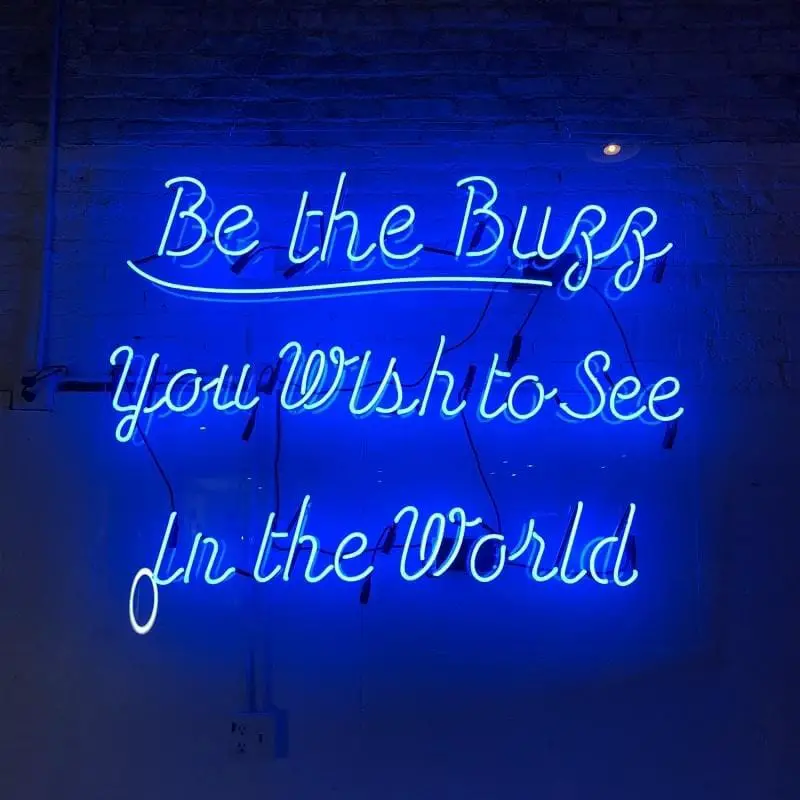 This is a modification of a very famous quote. Be the change you want to see in the world is the original quote. In the above picture, the quote is be the buzz you wish to see in the world. That makes scenes too. If you want to modify your favorite quotes, you can do that too. Just be real and confident. In this world, only the amazing things stands out. So, try to be different from others when it comes to creative works.
Using a direct quote will also help you to get the attention of people. But make sure the quote is really that great. You can have you only live once – YOLO types of quotes or happy quotes on your wall or door.
10. With all your heart!
This is the same as above sign of moon. In this picture, the sign stands for heart. With all your heart. It may seem an incomplete sentence but it is conveying what it wants to say. So, it is counted as a creative form of using blue neon signs. You can also use your shop's or brand's tag line as a neon sigh. It will provoke your customers to know more about your business. It may make them interact with you.
After going through so many amazing fun blue sign ideas, you may get your own idea too. You can use any of the above mentioned ways to make the neon signs beneficial for you. However, coming with something unique always plays the best role in advertising.
The above list is of blue neon sign. However, neon signs comes in a range of colors. It can be white, red, black and purple. But blue sign stands out the most. Make sure you are using the signs in appropriate places. Using a neon sign outside a funeral office is not a good idea. However, having a vibrant neon sign outside a bar or café will attract the youth. It also gives cool vibes to the surroundings.
Many people use neon signs for bedrooms too. It helps you to get the cool vibes at home. At movie night or home parties, these signs really hype the atmosphere. If you want to decorate your home, walls or bedrooms then using a fun blue neon sign is a good idea.