Some logos and signages become so iconic that no matter how old they get, it's almost impossible to forget them. These signages in the past were a very popular tool for outdoor advertising in the US during the 19th century. During the 1900s, designers started to experiment with them and using them to advertise everything from cigarettes to pubs to motor vehicles and more.
One of the most popular colors used by the designers when designing a sign for marketing was Blue. Blue is most used in advertising because of its psychological properties. It is the preferred color of men. Signages used bold fonts on blue backgrounds to attract attention. Blue is also associated with peace, water, tranquility, and reliability. It induces feelings of security and productivity in people. Thus, it was a crowd favorite amongst brands who wanted to promote their products and services as unmissable and reliable.
Most of these metal and porcelain signs were destroyed during and around the World War II. Thereafter, it became too costly to manufacture them. These signs were so popular back in the days that everyone used to have them, even outside there homes as decorations. Some of these became so iconic that people still remember them and collectors around the world pay hundreds of thousands of dollars to add these vintage blue signs to their collections.
So, here, let's look at 12 vintage blue signs that you cannot forget-
1. Vintage Saab Logo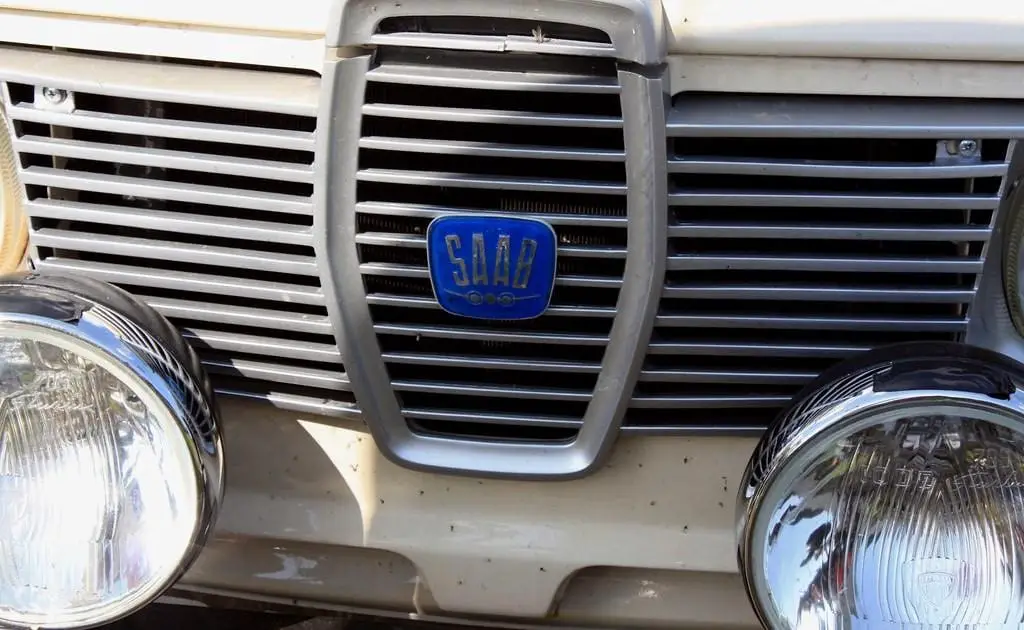 Source: Pixabay.com
Saab logo is one of the most recognized logo in the world. It has undergone many logo changes and all iconic to this today. This is the earliest version of the logo as used on the first ever Saab car Saab 92, introduced in 1949. Manufactured by Saab Automobile AB, the car kept jumping from one parent company to another for years. That is, until 2010s when after declaring bankruptcy it was acquired by the National Electric Vehicle Sweden (NEVS). Saab managed to establish reputation for its sound engineering and ultimately earned the luxury price tag also. However, Saab has been unable to build its customer base apart from its niche following.
2. The Great Seal Of The State Of Nevada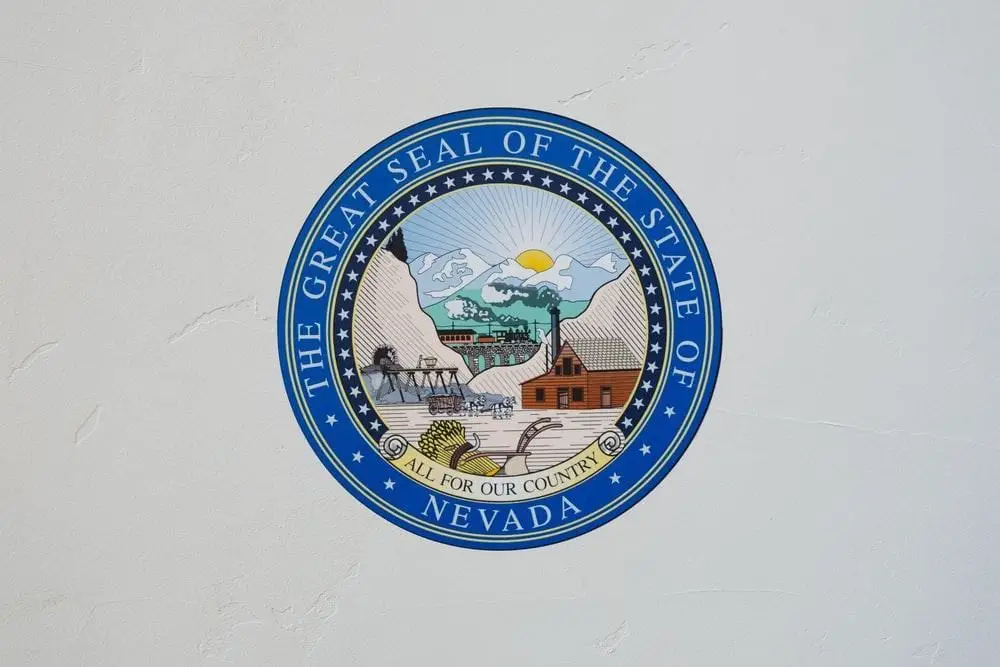 Source: Unsplash.com
One of the earlier versions of the state seal of Nevada, the seal is full of symbolism. The features to be included in the seal were adapted in Nevada's Constitutional Convention of 1864. By 1866 the design for the seal was finalized. It includes a silver miner and his team moving a carload of ore from a mountain to represent its rich mineral sources, another quartz mill stands before another mountain. Telegraph poles and steam train symbolize transportation and communication channels in the state. Symbols for agriculture include a sheaf of wheat, a sickle and a plow in the foreground. A rising sun over snow capped mountains represents its natural beauty and encapsulate in the circle is the motto "All For Our Country".
3. The Blue Swallow Motel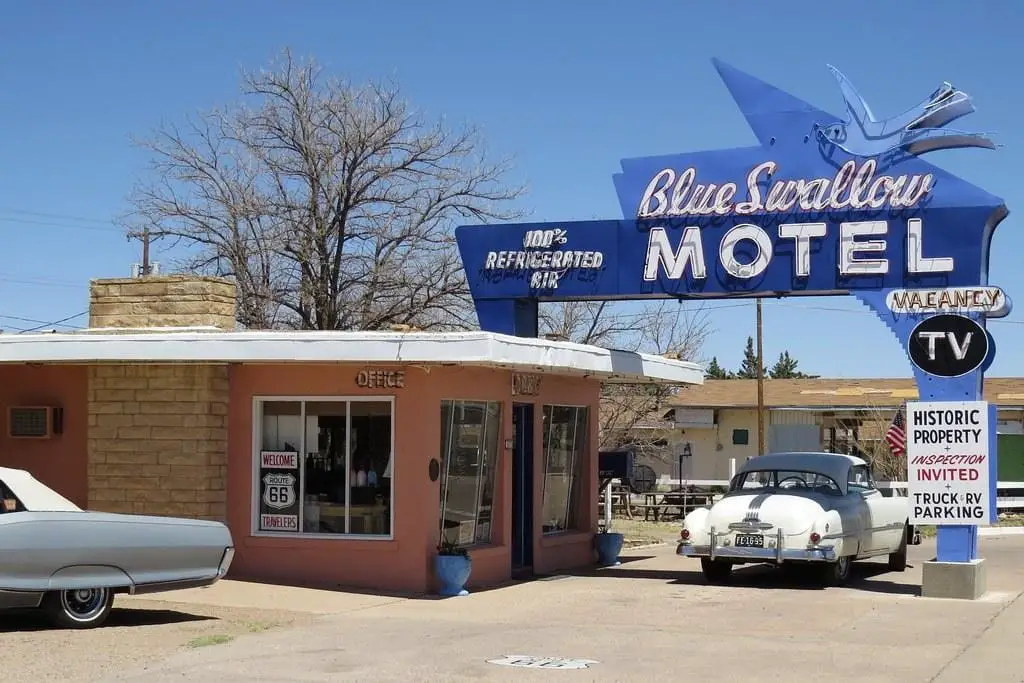 Source: Creativecommons.org
Famously located on the historic Route 66, Blue Swallow Motel was built in 1939. Located in Tucumcari, New Mexico, USA, it is a 12-unit L-shaped motel. As part of Route 66, it is listed on the National Register of Historic Places in New Mexico. Its iconic neon sign was made in 1960 and has since been restored. The motel has been sold multiple times with the latest sale happening in 2020 by a Robert and Dawn Federico. The Smithsonian Magazine named it as "the last, best and friendliest of the old-time motels". To this day, the Blue Swallow Motel remains in profitable operations on the iconic Route 66.
4. Pabst Blue Ribbon Beer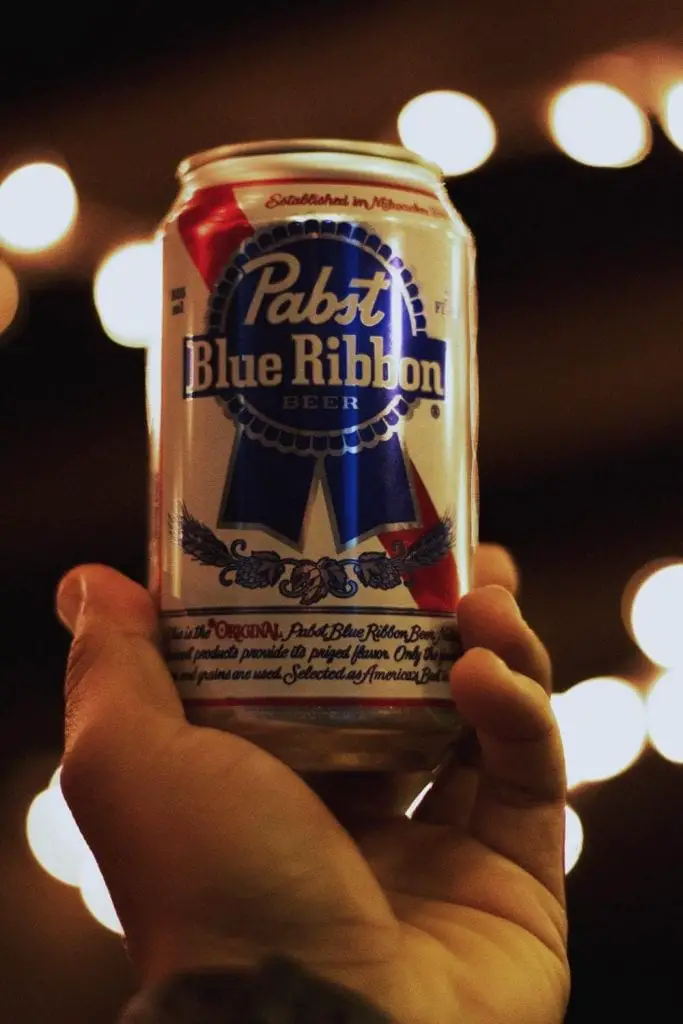 Source: unsplash.com
Pabst Blue Ribbon Beer, sold by the Pabst Brewing Company was established in Milwaukee, Wisconsin, in 1844. The company currently operates out of Los Angeles. This beer brand gets its name "Pabst" from Captain Pabst who became the president of the company in 1872 when he married the daughter of the original owner Philip Best. The company was still known as Best and Co. Pabst Blue Ribbon Beer was loved all across the country back then and is now huge(!) in China. This sign was used on all beers cans/bottles and wherever the beer was sold. It's so iconic that pubs and enthusiasts use it for display even today.
5. Ford Logo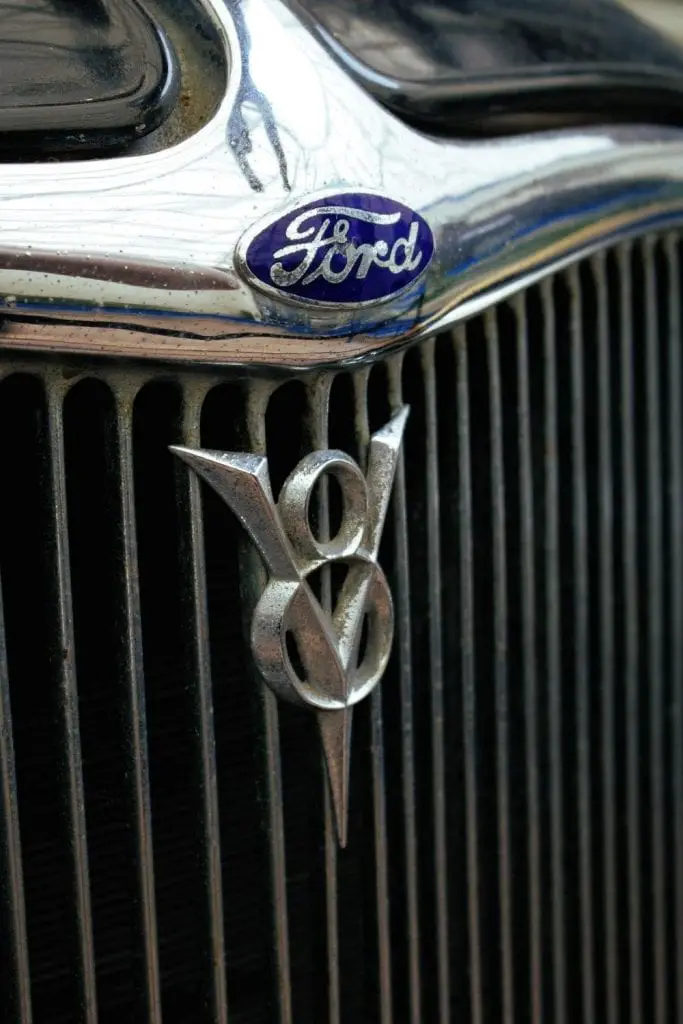 Source: Unsplash.com
Ford Motors launched in 1903 from a converted wagon factory on Mark Avenue, Detroit by Henry Ford. Back then it could only manufacture a few cars a day. Group of two or three men worked on each car using parts outsourced to other firms. The logo seen in the picture was adapted in the year 1927 and although it went multiple changes it's regarded as one of the greatest, most memorable car logos ever created. Blue color in the logo symbolizes strength, grace and excellence of the company.
6. US Route 66
Route 66 or US Route 66 is one of the most famous roads in the United States. It is one of the original highways in the US Highway System. Established on November 11, 1926, it runs from Chicago through Missouri, Texas, New Mexico and Arizona before ending in LA. The route covers a total of 2448 miles and has been mentioned in many books, songs and even movies. It was removed from the United States Highway System in 1985.
7. Crown Gasoline
Source: Creativecommons.org
This is a vintage advertisement from 1915, designed for Standard Red Crown gas manufactured by Standard Oil Company (Indiana). Established as Standard Oil Co. Inc. in 1870 in Ohio, the US Supreme Court declared it an illegal monopoly in 1911. During the 1970s the company started marketing its products as "lead-free" while most other manufacturers had switched to leaded gasoline. However, before 1961, the Red Crown Regular gasoline marketed in the Midwest also contained lead.
8. Bell System Telephone Company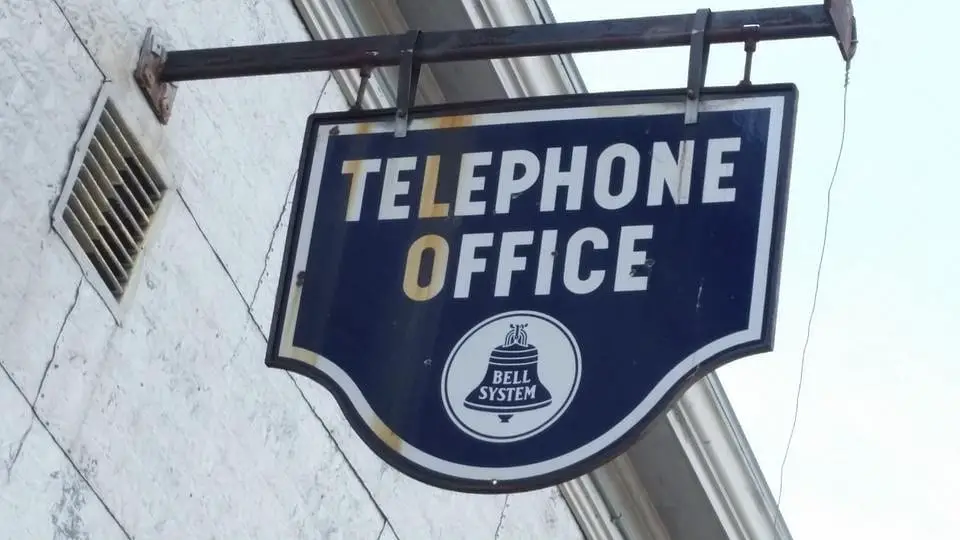 Source: Pixabay.com
Created in 1877, the Bell System was originally called the American Bell Telephone Company, after Alexander Graham Bell. The Bell System was led by the Bell Telephone Company which later came to be known as American Telephone & Telegraph (AT&T). They dominated the telephone service industry in North America for over a hundred years. It was broken up in the 1980s due to claims and lawsuits talking them down over the use of their monopolistic powers. Today only 4 of the original Bell Companies remain, namely AT&T, Verizon, CenturyLink & Cincinnati Bell, and they still use the trademarked bell in a circle symbol.
9. Buick Dealership
A division of the automobile manufacturer General Motors, Buick was started by David Dunbar Buick in 1899. Buick has always been marketed as a premium automobile brand selling luxury vehicles positioned above GM's other brands but below the flagship luxury, Cadillac. The signage of the brand was designed to communicate the strength and reliability of the vehicles. The logo indicates the classy, conservative appearance of the cars and speaks of authenticity. A favorite amongst car enthusiasts, the vintage signs of the brand grace the garages of many still.
10. Pschitt Drink
Known as orange citron, Pschitt is an orange or lemon flavored drink created in 1954 by Perrier Vittel SA Group. The activities of Pschitt were taken over by the company Neptune of the Castle Group in November 1988. The drink quickly became popular amongst the masses and various versions of its slogan "For you, dear angel, Orange Pschitt, for me, boy, lemon Pschitt", were adapted by artists. The brand relaunched in 2005 due to popular demands by nostalgic adults. Their target audience now also included children to attract whom Neptune bought back the Pokémon license in 1999. The brand exists even today and can be bought online too!
11. Harley-Davidson Motorcycles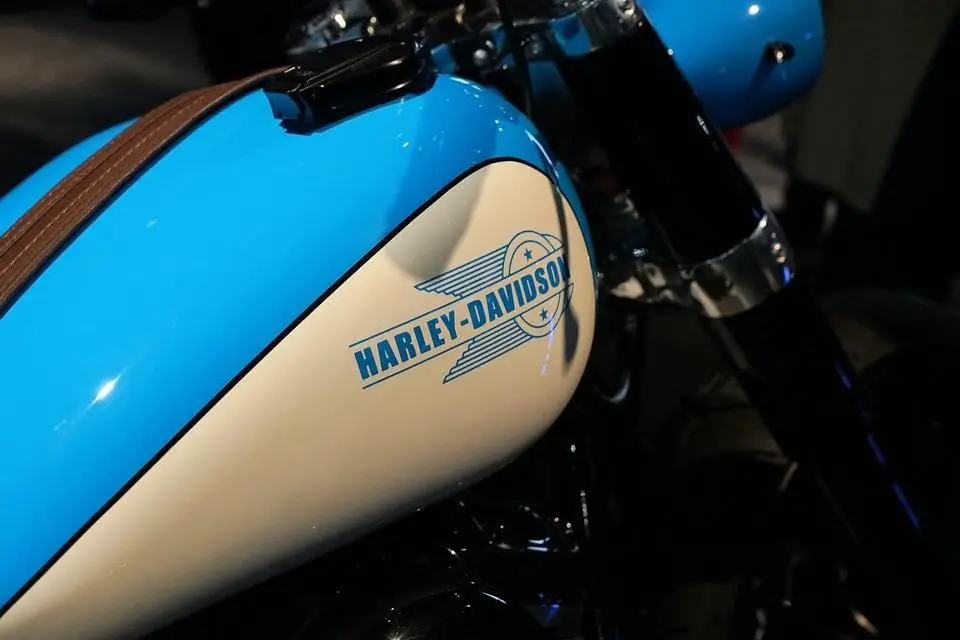 Source: Pixabay.com
Founded in Milwaukee in 1903, Harley-Davidson is one of the few motorcycle brands that survived the great depression of the 30s. Harley introduced the chopper style bikes that riders and bike enthusiasts aspire to. Through its logo, Harley tried to convey everything that the brand stood for- trust, strength, sturdiness and power. The ancient logo has since evolved. It remains an unforgettable classic that still decorates a lot of Harley stores and garages, and the Harley "Free Spirit Riders" around the world take pride in it.
12. Avenue Des Champs-Elysees
Built in 1670, Champs Elysees is an avenue in the 8th arrondissement of Paris, France. It is 1.2 miles long and 230 ft wide, runs between Place de la Concorde and Place Charles de Gaulle. Although it didn't get its name until 1709, by the mid 19th century it became one of the most famous streets in the world. The avenue houses many cafés, theaters and luxury stores. The annual Bastille Day military Parade moves along this street. It also serves as the finish point of Tour de France cycling race. This sign is displayed along both the ends of the street to mark its "territory".