Everyone is obsessed with the eye color blue. What is so distinctive about blue eyes? Eye color in human beings is determined by gene variations and hereditary characteristics. Physically speaking, it is the color of the pigment that is present in the iris of the human eye. The pigment present in the iris ranges from light brown to black. This is because of the amount of melanin present in a part of the back of the iris. In a person with hazel, blue and green eyes, the distribution of light in a part of the eye called the stroma accounts for eye color. Actually, there are no blue or green pigments in the iris or any fluid in the eye representing color. "Color" manifests itself only due to the scattering of light combined with the amount of melanin present in a person's eye.
In the human eye, color is more the result of structure rather than hue. Researchers have postulated that around fifteen genes are responsible, in some way, for the inheritance of eye color in humans. Some eye colors are more sought-after than others. Lighter shades are almost always more prevalent in Caucasians. Overall, the most commonly loved shade is blue.
As with all things beautiful, blue is a color that represents "pretty blue things". So it is with eye color too. Celebrities and stars are famous already, but with blue eyes, they tend to have more of a fan following than others. We often remember stars like Brad Pitt more fondly than Johnny Depp. Of course, some of us may love Depp's acting skills a lot more, in the looks department, Pitt wins. Generally, the color of the star's eyes (and more when it's combined with blonde hair) will stick with you. This is irrespective of the other great traits that he or she exhibits.
An interesting study showed that when brown eyes were "positioned" on blue-eyed celebrities' photos, people didn't even bother to look at them. With most people agreeing that their favorite color is blue, and studies confirming that everyone likes pretty blue things, having blue eyes is an advantage for any celebrity. What follows is a list of ten famous celebrities who are blue-eyed and happier for it!
Brad Pitt
The first thing you will notice, whether you see him on the cover of a magazine or in a movie clip, are his piercing blue eyes. Yes, Brad Pitt's eyes certainly have it! At the age of 52, his eyes are his best asset. In a role where he sports a full head of silver hair, he completely rocks the image with his blue eyes taking center stage. In a cover for GQ Style (2017), with white sand strategically thrown over his face, his blue eyes pop out right at you. More than his undeniably good looks, it's his eyes that get you every time!
Angelina Jolie
Angelina Jolie, an award-winning actress, philanthropist, and leader in all things humanitarian, has a beautiful head of dark hair, and gorgeous blue eyes. She is not just famous for being the ex-wife of Brad Pitt, but was the UNHCR ambassador for refugees the world over. She has worked tirelessly, and her popularity stretches beyond the frame of a camera. In April 2012, she was named Special Envoy and continues to work for the cause of children and refugees on a global scale. She is currently involved in finding solutions for displaced people in developing countries.
Megan Fox
Paul Newman, the star known for his wonderful blue eyes, once remarked that if his eyes ever turned brown, his career would end. Megan Fox prides her appeal on her eyes. The model and actor, with a dark head of hair and the loveliest almond-shaped blue eyes, is known for those pretty blue things. In every photo shoot, the celebrity's eyes stand out the most. They are a lighter shade of blue, and though they don't climb out at you, they are soft and smoky. Her eye shade gives her a quality of mystery and can be addictive and hypnotizing.
David Beckham
You can't miss this former footballer's eyes even if you tried! His eyes, in a roundish shape, are distinctly blue with a tinge of green. Once dubbed the "Sexiest Man Alive", by People Magazine, is in no way outshined by his equally famous once-singer wife, Victoria Beckham. His eyes are compelling in every picture you see of him.
Justin Timberlake
This singer, songwriter and actor seems to be famous for a lot more than just his singing ability. He is a talented actor as well. His uniqueness lies in the fact that he alters his look year in and year out, but his lovable blue eyes remain constant. His eyes are compact, yet draw you in. With fans like Taylor Swift, Timberlake is one of the more fortunate stars around. He is known to be unassuming and friendly, and this adds to his appeal.
Charlize Theron
Charlize Theron is a South African actor who climbed the charts of Hollywood in the nineties. She is a profoundly prolific actor, having won many a coveted award. Formerly a fashion model, she has the most mesmerizing blue eyes, expressive and setting her a class apart from the rest of Hollywood. Her eyes convey more than words can ever express and her most memorable role for which she won an Academy Award was in the title role in the film, Monster.
James Martin
Celebrity chef James Martin has a large fan following, primarily and understandably, female in nature. No surprise there – he has the most riveting pair of sparkling blue eyes. He is not only proficient with a ladle and pan, but very attractive, with a taut physique. Though considered a heartthrob by many, he himself doesn't think about the title much. He is more interested in being recognized for his prowess in the kitchen. By his own admission, he claims that he spends a mere thirty seconds to prepare for a television appearance.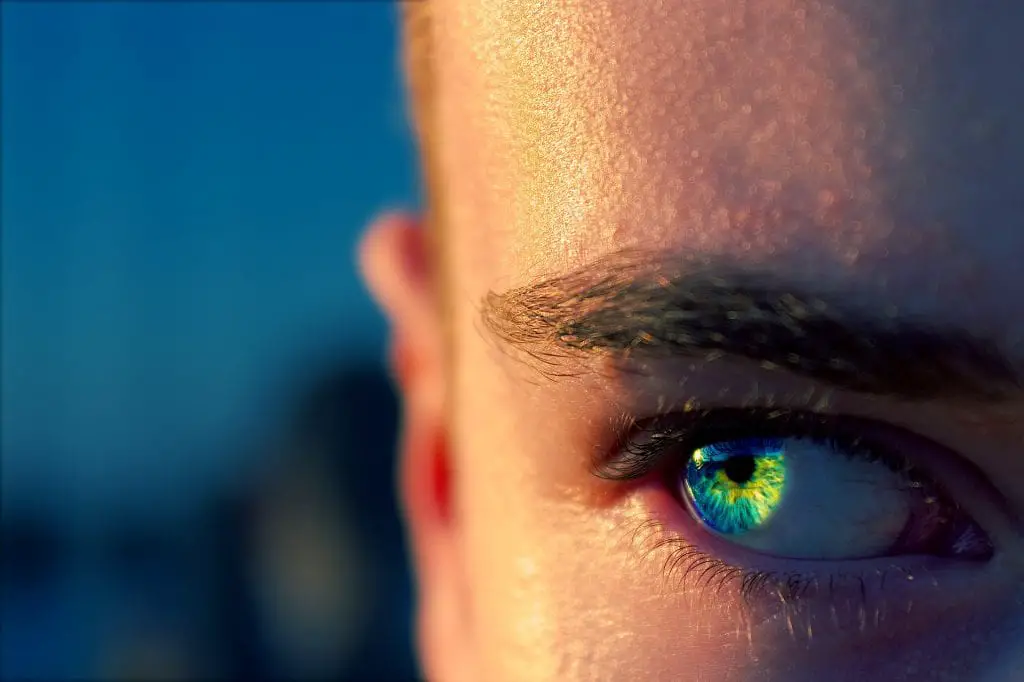 Chris Hemsworth
If you've seen him as "Thor", you'll notice that his prosthetic eye is brown. The actor has the bluest eyes in Hollywood, and on days when he casually dons those pretty blue things called jeans, you'll see how his eyes match the bluest of blues. Known as one of the hottest actors around, this Australian has all the attention he needs, and more, to be on the top of any celebrity list.
Adriana Lima
Stunning to look at, on and off the catwalk, Lima is a Victoria's Secret model and angel. At the age of 36, she gives younger models a run for their money. She has brilliant blue eyes and believes that smoky eye make up enhances their enchantment. An eternal beauty, this Brazilian will turn heads for years to come
There are so many more stars that could have been added to the list above. Chris Pine and Tom Cruise, to name a few, besides actors of yesteryear, like "old blue eyes" Frank Sinatra. Sean Connery also comes to mind for his Bond blues. If you aren't blessed with the blue hue as your eye color, the only solution is colored contact lenses, which many people sport.