The verdict is out! All the famous people in the world love the color blue. The whole world loves it. Studies conducted time and again have shown this to be true. There are so many reasons why we all love pretty blue things. Blue has a history behind it that says it brings the emotions of happiness and joy. The color, in all its myriad shades, is a positive color. This is true if you wear it in the form of clothes or dye your hair blue. Before the color blue gathered so much storm, the color pink was quite popular for hair. Red as a hair dye has had its moment in the sun as well. Nonetheless, since blue has arrived on the scene as a hair color, it has taken over the world.
Whatever shade of blue you choose, be it a sky blue, or a darker cobalt, the color has a great impact. Many celebrities, including singers and Hollywood hotties, have dyed their hair blue and have carried it off with flair. They may be celebrities to begin with, so its no wonder that all their fans try the same thing too. One of the must-haves in our hoard of pretty blue things is pretty blue hair!
Check out the A-listers below who have managed to steal the thunder from out of the BLUE!
Lady Gaga
At the 76th annual Golden Globe award show, this Lady rocked a Cinderella look with her pastel blue hair. She had the whole style down pat, from the updo to the dress. The color was ingeniously applied more to show off a highlighted look and blended well with her platinum strands. The award-winning singer stepped out on the red carpet and really looked better than Cinderella herself!
Jimin
A member of the very popular idol-worshipped band, BTS totally killed it with his light blue hue. The shade combined with his already-blonde locks seemed like just what his fans needed to love him even more.
V
Another BTS band member, V, also tried a shade of blue, but unlike Jimin, he went bold and bright with a totally turquoise color. He proves that even men can carry this off. Being a member of a world-famous band that is gaining momentum by the minute certainly helps.
Cardi B
Brilliant rapper and performer, Cardi B, is known for the many varieties of wigs she has a fetish for.
In April 2020, amidst a pandemic, she sported a cobalt blue one when she went live on Instagram to chat about politics with Bernie Sanders. In a spin-off from her regular space bun look, she decided to have her hair pulled up into two large bows (like the ears of Minnie Mouse) on her head. Known to have had wigs in colors from indigo to azure and purple, this star is obsessed with pretty blue things for her head.
Kim Kardashian
The most well-known Kardashian of all decided to turn moody blue in 2017. With a light blue icy hue, framing her face in a chic bob, she went all out on Instagram to post her new look. She hangs out with Cardi B and Kris Jenner, both blue hair rockers, so its no surprise that she fell for the blue look. Though it was subtle, it was incredibly stylish. Kylie Jenner wasn't to be left out as she vibrantly pulled off icy blue long locks at the inauguration of her new extended line of hair products, Kylie Hair Kouture.
Markiplier
YouTuber Markiplier went live, streaming his bet to make watchers put money on the table for charity. He told them that if they reached the goal of an X amount of cash, he would dye his hair pink. That was obviously met, and he did go ahead and dye it. After that, he was into dying his hair all kinds of colors. The pink led to a royal blue, which faded to a somber purple. Now it's red, but M looked great in the blue.
Adam Lambert
Lambert, the runner-up to American Idol, and a true-blue entertainer with his always over-the-top looks, attended a VH1 award ceremony with blue tints on his black spiky hairdo.
Pink
Just after she became a new mom, Pink decided to go for a hint of blue in her short blond crop. Pictures of her look went viral as she posed on the sets of her movie, Thanks for Sharing.
Nicki Minaj
Known for her extravagant wigs, she went in for a two-tone number – half blonde and half blue at an American Music Awards Press Conference.
Zahara Jolie-Pitt
The eldest of the Pitt kids, this pretty young thing loves to sport pretty blue things. Making a statement like her famous parents, she stepped out in cutting edge blue braided hair. Her cute jewelry was worn to match too. She was on her way to New Orleans for a holiday with her family.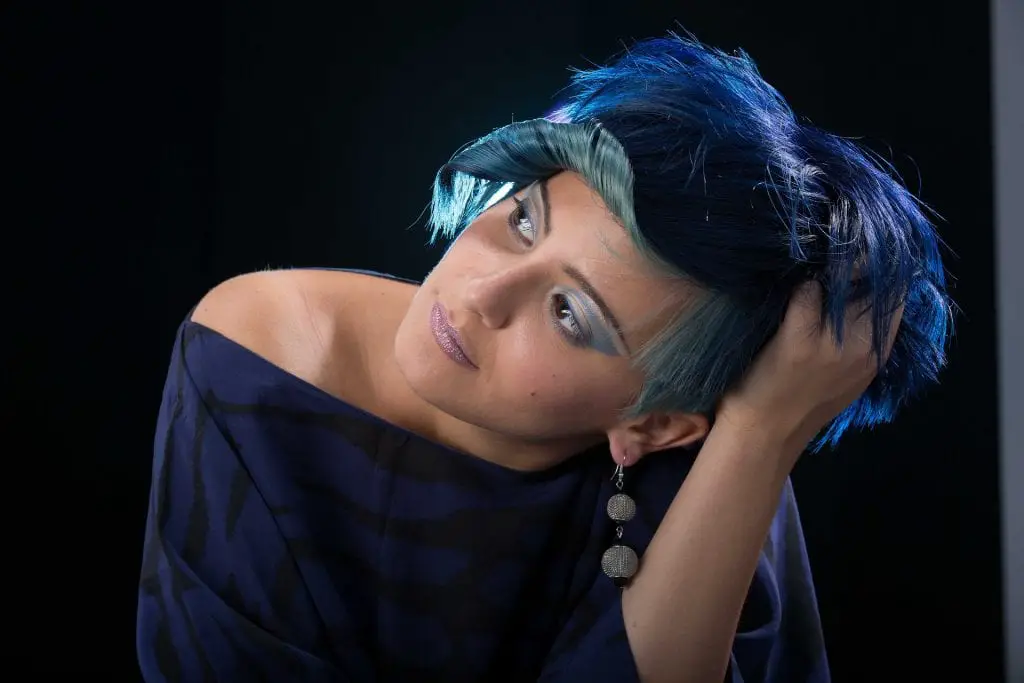 Nicole Richie
This famous daughter had lilac hair first, but decided to be part of the jet set by going blue. Prominently pulled down in a long fringe over her forehead, she pulled off a look that few would have been able to on the show Good Morning America.
Adrien Brody
The year 2017 seems to have been the year in which many a star shimmered in blue hair. Actor Adrien Brody had blue highlights on his brunette head of hair to a screening of "The Brothers Bloom".
Katy Perry
Katty Perry has always been one star to shock with new hair in her videos and in-person too. She loves to experiment with new looks all the time. She sported a blue wig in one of her music videos. The star believes that wigs are the only way to go if you want to change your color as often as she does.
Gwen Stefani
Before the color blue for hair really took to the skies, singer Gwen Stefani had already been up to speed with it at the MTV Movie Awards as early as 1998. She has been a fashion icon to many and believes in fun looks blended with a style of her own.
Marc Jacobs
In 2007, Marc Jacobs, the celebrated fashion designer, went all out for a blue hair look. He's one man who showed that not only men, but older men, could make a fashion statement with funky hair color. Known to be moody and eccentric, he's still considered one of the best designers of the era. By the way, he has a hair care product line too.
Demi Lovato
The fantastic singing star had glorious blue bangs, casually sweeping the frame of her pretty face. She went bold with a dark blue hue, but looked feminine enough to not look crazy.
Busy Phillips
The star of Dawson's Creek made aqua look edgy and managed to give it all a unique edge in pigtails. Schoolgirls will never be the same again.
Grace Chatto
A natural blonde who wanted to try an understated shade of blue, Clean Bandit singer Grâce Chatto transformed her long hair. The silver-tone blue compliments her features and gives her a Rapunzel-like look.
Going blue
If you're thinking about turning your hair blue, you can follow the looks of the stars. Blue on hair, suits dark-haired folks or those with lighter shades. Blue is a pretty versatile color and because it is related to many pretty blue things, it will always be a head-turner.