In many cultures and religious traditions, colors are associated with the idea of faith. Customs, culture and religion are all intertwined aspects of what people across the world believe in. In the history of art, you will discover religious and cultural elements pertaining to how particular societies function. You cannot, as a result, separate elements and compartmentalize them. Islam is a religious faith practiced by a large amount of the world's population. Its tenets are based on the Holy Book, the Quran. On looking at this holy grail for believers of Islam, people may discover it as a work of art itself. Many writings and symbols of Islamic faith are, in fact, visual masterpieces.
The Islamic faith dictates that disciples follow prayer at a Mosque. Most artwork in Islam is found in these holy places of worship the world over. The architecture is replete with minarets and domes in various colors. Green is revered as it is considered the Prophet Mohammad's favorite hue. Different shades of blue are also given preference, for in Islam, turquoise and cobalt are considered symbolic of the earth and sky. Blue symbolism found in Islam is in the form of works of art and architecture, as in their Mosques, mainly. In Islam, a Mosque isn't just a place of worship, but a space to attain peace for followers of the faith. It is also an area in which all the organization and administrative work of the faith is conducted.
Color Symbolism through the Ages
A large part of the Arab world is Islamic in faith, culture and tradition. For centuries, traditions in the Arab world have been steeped in artistic motifs and colors. Complexes of structures have been built keeping light and color in mind. Such was the mindset of the artisans of Islam. Originally, colors used were black, white and red. These were meant to be standing for the earth and light. These colors, found in many an ancient cultures, such as Sumerian, were suggestive of the universe and its power.
Islamic art in religion and in culture has been influenced by Mesopotamian and Babylonian art forms. Although icons and art in Islam have evolved into a distinct feature, colors and structures have foundations from other cultures.
Borrowing Colors
A ziggurat in Babylon, seven-feet high, known as Etemenaki, was reconstructed in the 18th century BC by Assyrian architects. This was a temple of heaven and earth, both blue objects (heaven being akin to the sky). The top of the temple was rebuilt with turquoise glazed tiles. These were made in white ceramic with typical motifs in turquoise.
Turquoise and other blue hues were often mixed with gold to depict holiness and piety. Such combinations of color have been the aesthetic of Mosques in Islam for years. Blue symbolism taken from other cultures, marks much of ancient Islamic architecture, such as in the structures of Shah-i-Zinda at Samarkand. Light blue and gold were significantly blended in later Islamic culture.
The Blue Mosque
In Islam, in religion and artistic aspects, the color green is said to be most respected. In the Quran, it is a metaphor for nature, and the paradise that many an Islamic follower believes he or she will reach after death. Nevertheless, the color blue is also significant, especially when you consider the Sultan Ahmed Mosque. Located in Istanbul, Turkey, it was built during 1609 and 1616 by the Ottoman Turkish ruler, Ahmed I. The Mosque is fully functional today. It is also a world-renowned tourist attraction.
Called the Blue Mosque, it stands as the epitome of blue symbolism in the Islamic world. It houses the tomb of Ahmed I, a madrasah for learning and a clinic and hospice. The inside of the Mosque is decorated by blue tiles, all painted by hand. Upper interior levels are painted blue. Verses from the Quran, in calligraphy, adorn tablets on the walls. At night, lights shine on the five primary domes of the Mosque. These are all blue. Six minarets and eight smaller domes are also blue. It is a UNESCO World Heritage Site, and stands in the area of the nearby Hagia Sophia, a principally significant Islamic Mosque.
Blue is the Sky and Truth
In Northern Tunisia, in the Islamic town of Sidi Bou Said, all houses are painted in cobalt and light shades of blue with white. These two colors, interpreted as white for purity and blue for the sky and truth, were introduced by a French painter. Rodolfe d'Erlanger, who settled in the city in the twentieth century, was especially interested in the importance of blue motifs and blue symbolism in Islam.
Blue Geometry
As famous as Islamic calligraphy is, so is the tile work seen in art and architecture. Characteristically, Islamic decorative elements include geometric designs that have evolved from ancient times. Combinations and permutations of squares and circles, overlapping and linked at times, form intricate patterns. A large variety of tessellated segments are seen too. These may form the bulk of the motif or just the backdrop.
From the 9th century BC, patterns were constituted using simple shapes like stars. By the 13th century BC, designs grew complex with 14-point shapes. In the 16th century, elements were so complicated and unique, and couldn't be copied even by the artisans who made them. Patterns such as these can be seen in Islamic art around the globe. You can see it in kilim carpets and rugs, girih of Persia, zellige tiles of Morocco, and more. What is relevant here is the blue symbolism built into each aspect of this art. Tiles were often of turquoise blue and deep blue hues.
Art Forms
Many forms of art in the Islamic world use geometric patterns in blue shades to blend aesthetics with culture. Ceramics, pierced jali screens, rugs of kilim, stained-glass, tiling and girih work all use patterns with blue thrown in. Often, blue is combined with white or gold for effect and to blend metaphors of nature, sanctity, holiness, peace and honesty.
Islamic Pottery
From the 13th century, flowers were incorporated as geometric patterns on bowls, jugs and other dishes. Leaves were also depicted as such. Nature was the inspiration and designs were fashioned in a rich blue glaze. The designs chosen were dependent on the type of crockery being made. Water flasks were often inscribed with writing in blue with a single element of blue symbolism. This could be a simple flower or geometrical shape, like a diamond or star.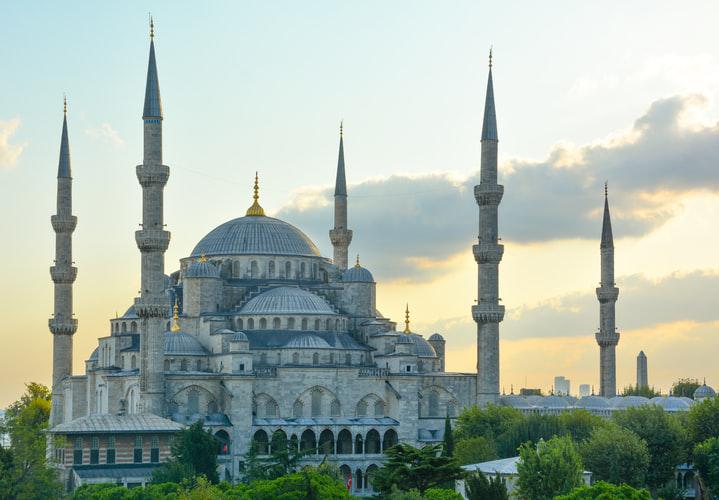 Girih Tile Work
Standard shapes positioned as intertwining patterns is what Girih work is all about. First used in the architecture of Persia, it was adopted later by other Islamic nations as well. Such patterns were made as woodwork designs with blue glass embedded. Mosaic panels would decorate the ceilings of many a Mosque or wealthy home. In the Safavid period, such intricate work was done to create frames of lattice, left plainly as they were made. Elaborately, these would be inlaid with colored glass panels in shades of blue or green.
Jali Work
Mainly found in the Indo-Islamic culture of the Mughals who invaded India, this involves stone screens that are pierced. The stone used is either marble, such as in the epic Taj Mahal, or sandstone. The pierced parts are inlaid with blue gemstone or glass. Many an Islamic home had screens made of jali work, either in wood or heavier white marble, inlaid at the borders with blue and red semi-precious stones. Sometimes, combinations of different blue hues were used, dark and light, to bring out the true nature of blue symbolism.
Details and Color
In Uzbekistan, in Samarkand, is the Bibi – Khanym Mosque. Built at the heart of the epoch of Islamic art in the 15th century, it was restored by the Soviet Union in the 20th century. In architecture of the Timurid style, its facade has a large arched decorative front piece. With a dome height of 40 meters, the central cupola has a dome in turquoise blue. Minarets have arched vertical panels that are adorned in blue with geometric pointed stars.
In Marrakech, the Ben Youssef Madrasah boasts a cedar door with mosaic tile work in turquoise blue, red and black. Backgrounds of these designs also have blue aspects, with lighter and darker blues contrasting for attention. The zelligue tile work is a great example of blue symbolism.
Mosques around the Globe
In the Quran, initially, blue had a negative connotation, and was thought to imply something negative such as death on the day of judgment. Nevertheless, as this idea was based on pure circumstantial evidence, later scholars believed that blue symbolism was positive in the faith. In practically all the Islamic countries around the world, you will discover Holy places in mainly blue shades. Mosques in Iran are known for their beautiful blue tile craft. In more modern Mosques, such as those in Saudi Arabia, blue or green stained-glass is striking. In Egypt, all Mosques are completed coated in blue pigments. Most scholars relate this idea of blue as a "healing source" and something that is close to "heaven" and consequently, to God.